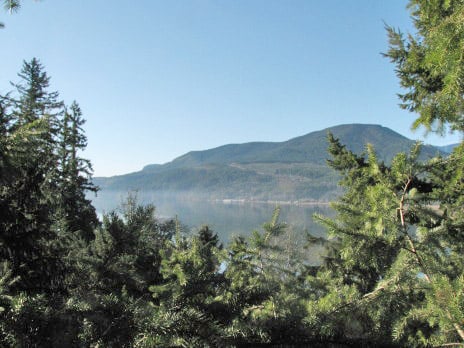 Quilcene Residential Stand
This Winter we were fortunate to spend a week on Quilcene Bay improving a residential stand. The morning view of Mt. Constance looming behind the bay stands out as a seasonal highlight. Conor spent a day with the landowners walking through the trees and setting goals to improve the health and aesthetic value of the stand.

Work began with the removal of a dozen or so mid-sized Alders to allow for some more light to reach a Norway Maple. Next we entered the canopy to assess the health of the larger trees and prune back hazardous limbs and dead wood.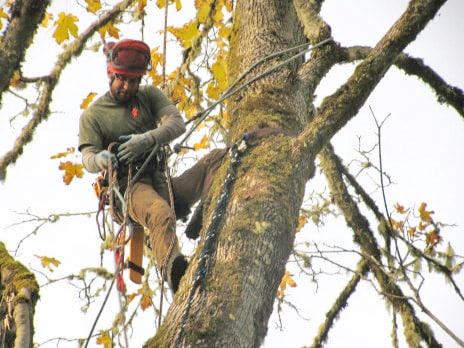 Olympic Foothills Tree Cable Installation
Last Fall we were presented with a challenging, yet fairly common problem: Our clients were concerned about the risk a 75' Maple tree posed to their house, but at the same time they appreciated the tree's unique structure and heritage. The tree was clearly healthy, but lacked protection from the high winds that funneled down the mountain valley directly toward the house.

Barring removal, one solution would have been to top the tree at a height that would put the house outside of the tree's striking distance. However, this is generally considered a poor practice due to tree health and structural consequences. After much deliberation the clients were beginning to come to terms with the idea of the tree being gone.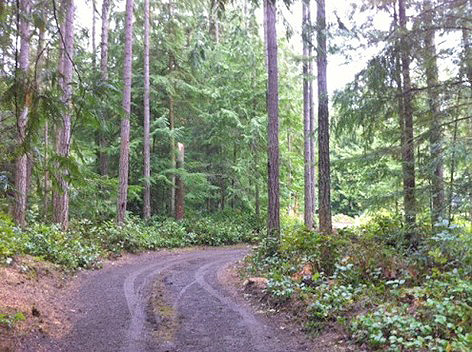 This stand was thinned for three objectives listed here by priority: Hazard, light exposure and stand health. The client needed multiple hazard trees removed that were near her home and outbuildings – these were the first priority. She has a beautiful garden that she meticulously tends 6 months out of the year. The garden was losing out in the battle for light as the stand closed in around it. A few trees were taken to give more light to the garden, three of the trees directly adjacent to the garden were made into natural snags. 

The rest of the stand bordering the yard was carefully gone through and assessed for forest stand health. Trees were selected to be cut based on their proximity to other trees within the stand. The objective was to create more light for the younger trees, establish a variance in cohort age, and create natural snags. This stand was thinned for three objectives listed here by priority: Hazard, light exposure and stand health.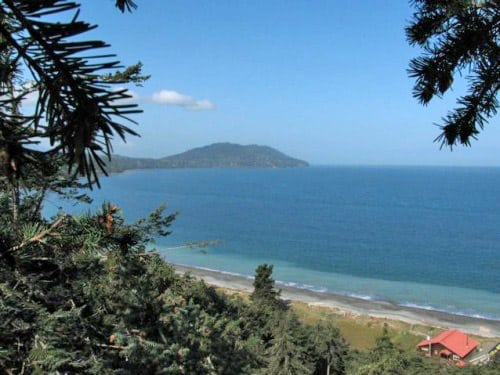 This was an extensive view enhancement project. Selective pruning of a rugged costal old growth stand gave way to a picturesque view for this Jaun De Fuca Home. This picture was taken from the crown of an old-growth Douglas-fir overlooking the Strait of Juan De Fuca. Non-invasive climbing techniques (no climbing spikes) are used to move about the canopy without damaging the tree.

These coastal old-growth specimens were carefully pruned to enhance the homeowners view – removal of hazardous deadwood near the house, take a few limbs impacting the view and leave the crown to flourish.