Serving Port Angeles, Sequim,
Port Townsend & the Olympic Peninsula. We are the largest ISA Certified Arborist
tree removal service company on the Olympic Peninsula.
Exceptional residential tree work begins with a balanced respect for people, their property and trees. It requires a ISA Certified Arborist with an astute understanding of tree biology, an ability to properly assess risk the risk they pose and professional communication of those observations. Furthermore, it demands a team of intelligent athletic technicians who safely perform the work. A team driven by a higher standard – to continuously work to be the leader in our industry and exceed client expectations. The arborists at Sitkum Tree Service approach each job with this philosophy. We are a safe, friendly, problem solving team. We believe our customers deserve professional communication from all of our representatives, a safe and well planned job-site and immaculate cleanup. 
Sitkum Tree Service provides tree care solutions to the residents of the Olympic Peninsula. We are a team of Arborists committed to problem solving with our clients, educating and listening as we work together toward the best plan of action. We operate under a code of ethics established by the International Society of Arboriculture and fortified by our daily standard of workmanship. Sitkum Tree Service is the company that will take the time to understand your goals, communicate our professional opinion and execute the work in a safe, efficient and tidy manner.
Please call us if you have a tree that needs to be removed, evaluated or pruned and would like to seek advice from trustworthy ISA Certified Arborist. Please call – 360-207-2832 – or email concerns and photos to conor@sitkumtree.com.
Conor Haggerty has owned and operated Sitkum Tree Service since March of 2010. Prior to that he went to the University of Washington and graduated with a degree in Community, Environment and Planning and a minor in Forestry. During his years at U of W but before Sitkum was officially established he practiced tree care for clients around the Seattle and Port Angeles area. He studied with the lead Arborist at the Washington Park Arboretum in Seattle for 9 months. It was here that he learned the fundamentals of proper tree care that he still practices today. He has been an ISA Certified Arborist for over 10 years. He has been a Tree Risk Assessor for over 8 years. He has over 15 years of experience in the tree care industry.
Conor is continually searching for professional advancement and regularly attends lectures and courses to advance his knowledge in the arboricultural field. He has diligently built the business from one assistant to a team of 5 employees. His commitment to quality tree care built a superior name for Sitkum on the peninsula – a name that clients continually refer and new clients find confidence in.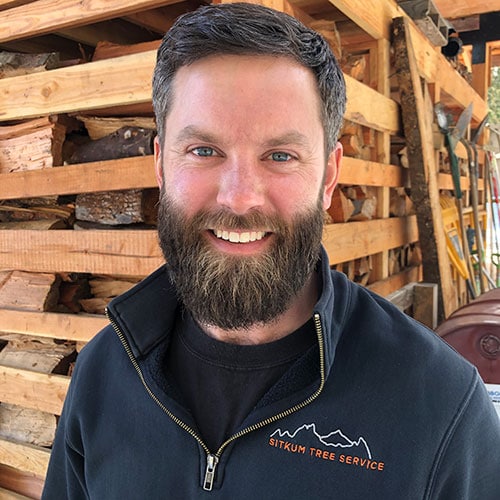 Conor Haggerty - Owner/Operator

Availability
We have weekly availability to evaluate your trees and get you a bid. We prioritize emergency jobs - call us if your job is time sensitive.

Professional Expertise
We are highly educated, professional, certified arborists. We have specialized heavy equipment and confident experience to help you with any tree related concern.

Free Estimates
We offer free estimates on our services. Contact us today and we can set up a time to review the work you need to get done.

New Home Construction & Land Development
We work with developers, home builders and heavy construction contractors to properly take care of your tree related concerns.

Real Estate & View Enhancement
Did you recently purchase your home? We can help you identify your trees, evaluate their risk and develop a plan to manage them. Trees can be an asset if they are properly managed.

Commercial & Rental Properties
Do you need help managing your rental or commercial property? Large, technical complex jobs is our expertise.